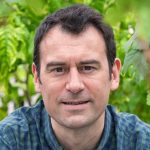 Wine Research Centre, Faculty of Land and Food Systems
Dr. Simone Diego Castellarin is an Associate Professor at the University of British Columbia, Vancouver, Canada. He has received his Ph.D. (2007) in Agricultural Science and Biotechnology from the University of Udine, Italy.
His research focuses on grapevine physiology and genomics and is aimed at understanding the molecular mechanisms that underlay fruit ripening and how these mechanisms are modulated by the environment and viticultural practices. His laboratory currently uses large scale transcript and metabolite analyses to identify the genes that regulate fruit ripening and the plant responses to environmental factors such as water deficit. He has also collaborated in breeding programs for blueberries and grapevines and contributed to the selection of various new fungus-resistant grapevine varieties with premium wine quality.